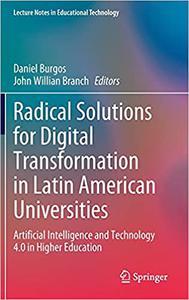 Daniel Burgos, "Radical Solutions for Digital Transformation in Latin American Universities: Artificial Intelligence and Technology 4.0 "
English | ISBN: 981163940X | 2021 | 267 pages | PDF | 5 MB
This book presents how Digital Transformation is a requirement to upgrade Latin American universities to a next level in management, lecturing and learning processes and strategies. The book starts with a thorough introduction of the Latin American context addressing the three main topics in the book: Digital Transformation, Higher Education and Artificial Intelligence & Industry 4.0. They will be depicted by region, with a clear distribution between Central America & Mexico, Comunidad Andina (Perú, Colombia, Chile, Ecuador, Bolivia), Mercosur (Argentina, Brasil, Paraguay and Uruguay), and other countries.

The book also shows how online learning is a key part of the transformation, with a clear focus on learning management systems, innovation and learning analytics. Further, personalised services for every single profile at the university (students, lecturers, academic managers) are presented to guarantee inclusive education service aggregation for networked campuses. Following, the book addresses strategy and overall services that concentrate on sustainability and revenue models integrated with a strategic planning.
Read more
Please Download Link Hight Speed | Support Download Unlimited Speed
Direct Link Download