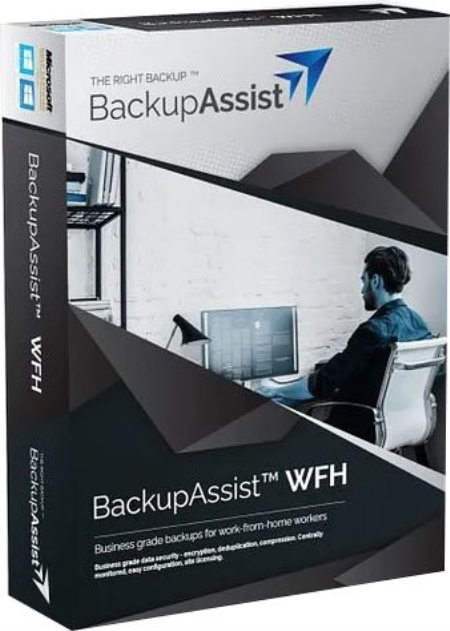 Languages: English | File Size: 106.75 MB
Easy, business grade backup protection for work from home computers.
With millions now working from home, valuable company data can go unprotected. Now you can protect desktop computers – system and data – easily with BackupAssist Desktop.
– Both data and systems are backed up, mitigating risk of data loss.
– Get running again quickly. Employees do their own file restores and system recovery.
– Company data gets backed up to company storage. Recordkeeping is easy. Security is assured.
– Centralized monitoring, maintenance and protection of data
– Flexible system and file protection
– System image to local USB HDD for fast system recovery
– File backups to cloud
– File backups to local USB HDD
– Work data is backed up to work-provided storage.
– Personal data can be excluded from the work backups.
– Company provided laptops.
– Employee owned, work-only computers
– Employee owned, mixed work/personal computers.
– All cloud backups feature data deduplication, encryption and compression.
– Cloud storage – use a company Azure or AWS S3 storage account. Satisfy data soverty and handling requirements.
– Local USB HDD storage – use inexpensive, company-owned media for fast recovery.
– Pre-configuration makes it easy for non-technical staff to install and use.
– Central monitoring for easy visibility.
– Ensure business continuity
– Ensure legal compliance with data handling
– Data soverty – company cloud account (AWS/Azure), choose where to store data
– Data secured with business grade encryption
– Multiple restore points
– Consistency of data protection
– Microsoft Windows Server 2016 family
– Microsoft Windows Server 2012 R2 family
– Microsoft Windows Server 2012 family
– Microsoft Windows Server 2008 R2 family
– Microsoft Windows Server 2008 family (64 bit)
– Microsoft Windows Small Business Server 2011 (Standard, Essentials & Premium)
– Microsoft Windows Essential Business Server 2011 (Standard & Premium)
– Microsoft Windows Small Business Server 2008 (Standard, Essentials & Premium)
– Microsoft Windows Essential Business Server 2008 (Standard & Premium)
– Microsoft Windows Storage Server 2008 R2
– Microsoft Windows Storage Server 2008
– Windows 10 (Professional, Enterprise) (32-bit/64-bit)
– Windows 8/8.1 (Professional, Enterprise) (32-bit/64-bit)
– Windows 7 (Professional, Enterprise & Ultimate) (32-bit/64-bit)
– Microsoft Exchange Server 2016
– Microsoft Exchange Server 2013
– Microsoft Exchange Server 2010
– Microsoft Exchange Server 2007
– Microsoft SQL Server 2016
– Microsoft SQL Server 2014
– Microsoft SQL Server 2012
– Microsoft SQL Server 2008 R2
– Microsoft SQL Server 2008
– Microsoft SQL Server 2005
– Microsoft SharePoint 2010
* All Microsoft VSS-aware Applications supported
– Microsoft Hyper-V 2016
– Microsoft Hyper-V 2012
– Microsoft Hyper-V 2012 R2
– Microsoft Hyper-V 2008
– Microsoft Hyper-V 2008 R2
DOWNLOAD
uploadgig.com
https://uploadgig.com/file/download/5CebaF275b8812b5/scXs3HIr_.BA.11.1.0.rar

rapidgator.net
https://rapidgator.net/file/7a327c7da168033660b2eac1b7e25b0c/scXs3HIr_.BA.11.1.0.rar.html

nitro.download
https://nitro.download/view/D03C0996955E4DA/scXs3HIr_.BA.11.1.0.rar
Direct Link Download