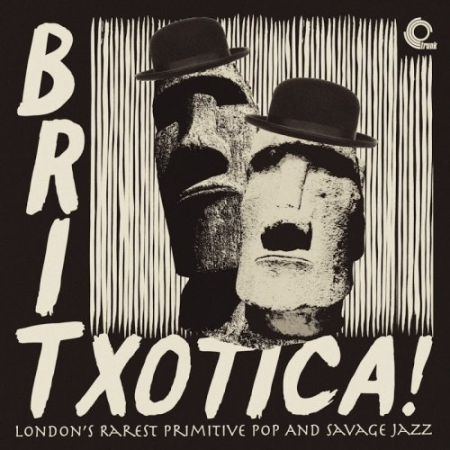 FLAC (tracks) | Jazz, Pop | 40 min | 241 MB
At the end of 2014 legendary DJ and tastemaker Martin Green approached me with a new idea about old music. He'd been amassing odd, rare and exotic British records for years and had come up with a plan. I've known Martin Green since the Smashing days of the early 1990s and have always trusted his taste and nose for the future past. If fact we did the Resurrection LP together way back in the 1990s. Anyway, I decided to leave him to it – he knows what he's doing after all. I even let him write all the sleevenotes. So, below is his explanation of it all. And stay tuned for Britxotica Goes East!
Following a vinyl hunt around the sleepy coastal towns of Kent, I sifted through my hoard of dusty singles to see whether I had found forgotten treasure or misjudged junk. Examining the A and B-sides, I soon noticed a common theme among my spoils. A bizarre mid-century creative clash between Great Britain and The Exotic World.
Titles such as Ritual Blues, Jungle Drums and Dusky Slant-Eyed Maiden by artists named Reg, Ted and Brian propelled my thoughts back to a when Trechikoff's Asian Girl portrait hung on flocked-papered walls, plastic flamenco dancers posed upon polished walnut TV cabinets and Bernard Cribbins playing a spy, dragged up and belly-danced around a Pinewood, plywood Casbah, disguised as a hefty harem girl. Soon I realized this cultural cross pollination was BRITXOTICA!
During the 50's Americans became obsessed with all things Latin, African, Polynesian and Hawaiian. They made stars of composers Arthur Lyman, Esquivel, Les Baxter and Martin Denny who provided an exiting rhythmic soundtrack to their affluent modernist lifestyle of highly stylized Tiki themed restaurants, casinos and hotels adorned with tribal decoration. Recovering from war, steeped in tradition and closer to European, Middle Eastern and Asian influences, the British equivalent was rather different. Quietly reserved, gently comic and slightly confused.
Ex-Vernon Girl, Lyn Cornell bs this Britxotica expedition with a gutsy vocal version of Johnny Dankworth's hit African Waltz, inventively transfog the cool afro-jazz instrumental into a song about a new kinda dance." Forget all the Mambo's, the Sambas and even the Cha-Chas" she sings before warning us, "Jungle will rock , savage will roll". I love this crazy record, but I'm still baffled. How do I dance to this Viennese and Congolese concoction
There are three other female singers represented here. West Indian actress Lucille Mapp appears as an island enchantress enticing us to follow her into a strange paradise of alligators and hot muchahas. Folksinger Nadia Cattouse's frantic jazz chase was produced by her husband, big band arranger Dave Lindup. Kenny Lynch's sister Maxine Daniels, sings a sweet Calypso about her frustrating attempts to transform a rude and rebellious young chap into a Latin music lover. She wants to Cha-Cha, but he wants to Polka (isn't that always the way Ed).
Underrated Ted Heath's remarkably long career spanned the cultural chasm between traditional big bands of the 20's and groovy expentation of the 60's. During the mid-century he explored exotic worlds with tracks like Shish Kebab, Madagascar and Jungle Drums. As with most Britxotica composers, he would effortlessly incorporate African, Turkish, Hawaiian, Italian, South American, Indian and Spanish flavours into his jazz fusion, all played to perfection by his dependable band of outstanding musicians.
Austrian classical pianists Rawicz and Landauer escaped Nazi occupied Europe and settled in England, eventually becoming popular concert performers. In 1959 they expented with gentle percussion and harmonic voices producing one great Britxotica LP, Rhythm in the Sun. The follow up single Bahama Rhumba, is a sublime slice of sun drenched tropical escapism recorded only yards away from Marble Arch.
Zambezi was an international hit for Lou Busch and here is an infectiously camp, politically incorrect, light entertainment version by Johnny Dankworth's Orchestra with guest crooner Tony Mansell, who followed a solo career by founding The Tony Mansell Singers. They were responsible for many easy listening cover albums, vocal guest spots on the Dick Emery, Larry Grayson and Tommy Cooper shows and theme to the equally non-PC hit comedy Mind Your Language.
Although Britxotica was mainly performed by whites, many contributors were black. The most famous being Edmundo Ros. Born in Trinidad, Ros moved to London in the late 30's and formed a Rumba band. With his soft distinctive voice and unique brand of samba, mambo and calypso, he enjoyed enormous success, ran his own club and performed at Buckingham Palace. Ros' friendly manner and accessible style popularised Latin music among the British public. Honoured with an OBE in 2000, he died in 2011 aged100.
The strange and exotic sound of the Hammond organ gained popularity from the mid 50's. Keyboard soloists Cherry Wainer and Jerry Allen were frequently on television championing the new instrument and can be heard here demonstrating its versatility. Cerveza is Miss Wainer's aggressive South American flavoured twist, while The Hat is a soft and sweet Calypso sung by Mr Allen.
Britxotica was a unique blend of straight-laced sensibilities and an English perception of wild ethnicity. It was Our Man in Havana, The Admiral Crichton and Carry On Spying. Architecturally it was The Eve Club, The Beachcomber and Lorelei Pizzeria, all sadly gone, their hand built wooden bars and bamboo lined walls chopped up for tinder. Miraculously, hiding beneath London's Hilton Hotel, Trader Vics, an original 1963 Tiki bar, somehow survived the axe swig safari which claimed its contemporaries. Today, on this compilation and buried alive by Hyde Park Corner, Britxotica Lives!
1. African Waltz – Lyn Cornell
2. Jungle Drums – Ted Heath
3. Poinciana – Allan Bruce
4. Bahama Rumba – Rawicz And Landauer
5. Follow Me – Lucille Mapp
6. Taboo – Sounds Incorporated
7. Run Joe – Nadia Cattouse
8. Street of a Thousand Bongos – Brian Fahey
9. Zambezi – Tony Mansell & Johnny Dankworth
10. Ritual Blues – Reg Owen
11. The Green Eye of the Little Yellow God – Harry H. Corbett
12. Take My Lips – Laurie Johnson & His Orchestra
13. A Night of Adventure – Edmundo Ros
14. Cha Cha Cha Calypso – Maxine Daniels
15. Cerveza – Cherry Wainer
16. The Hat – Jerry Allen
DOWNLOAD
uploadgig.com
https://uploadgig.com/file/download/fd03C3daC4fe1c90/3a6Bdksq_PPSavageJ_.rar

rapidgator.net
https://rapidgator.net/file/e50ea36d4a7e05b6d085c832f90b2564/3a6Bdksq_PPSavageJ_.rar.html

ddownload.com
https://ddownload.com/tcmtnhw4or62/3a6Bdksq_PPSavageJ_.rar
Direct Link Download